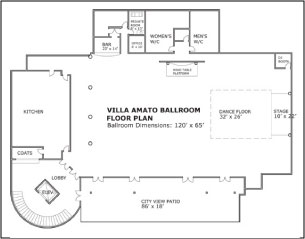 Capacity
Maximum of 400 people for a sit-down dinner or buffet. Maximum of 560 people for a reception style event or theatre style seating. Note: due to the size of the venue we generally recommend a minimum guest count of 150.
Deposit/Payment
A non-refundable deposit of $1200.00 is required at the time of booking to confirm your date. Seven days prior to your event the entire balance is due.
We will allow you to place a tentative hold on a date without a deposit for one week in order for you to confirm your caterer. After one week that date will be released unless a deposit is made. You may not place tentative holds on more than one date or repeat your hold.
Cancellation
Our cancellation policy requires that Villa Amato be informed of a cancellation at least 60 days prior to the event. In any case, the Deposit is non-refundable. In the event that less than 60 days notice of cancellation is given you will be held liable for the total cost of the rental fee. All cancellations must be received in writing.
Viewing our Venue
If you are interested in viewing our venue please contact our office directly to schedule an appointment. Viewings are available by appointment only Monday through Friday. 8:00am - 5:30pm.
Rental Hours
Rental hours are generally from 10:00am to 1:00am however, set up times may vary depending on our booking schedule. Shut down time is 1:00am which means that the bar service and music must cease. The band, DJ and decorator must have all of their equipment removed by 2:00am to allow our staff to secure the building; otherwise overtime charges of $275.00/hr will apply.
Facility Damage
The event holder shall be held responsible for any damage to Villa Amato's property during their event and is responsible for the actions and/or conducts of their guests.
Smoking
Smoking is not permitted inside our venue or in the parkade.
Decorations
You may decorate the hall only after getting approval from our events coordinator. The use of nails, staples, glue or any like material is not permitted on any walls, doors, posts, ceilings or any like objects. The use of duct tape is strictly prohibited and an automatic charge of $100.00 will be applied if it is used. Decorations must come down the same day as the event. Nothing may be left overnight unless it is approved by our events coordinator. Villa Amato is not responsible for any items left overnight.